Your wait is over!
We are pleased to announce the introduction of the MetroLinq Long Range Mount!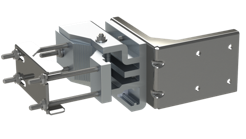 With accurate and precise alignment adjustments, a rugged mechanical design, and an offset orientation to maximize the number of units placed in one location, this new mount will allow for deployments in the harshest of environments at maximum ranges.
We are continuously optimizing our standard mount as well to provide additional strength and simplicity.