OVERVIEW
A few years ago, broadband connectivity was a nice-to-have amenity. Nowadays, most view it as an essential part of life. People's desire for fast and uninterrupted Internet connectivity grows rapidly; however, the infrastructure is not growing at the same rate. While some cities are getting fiber to the home, many cities and towns still don't have this luxury. In light of this, a couple residents from Golden, Colorado, with background in the high-speed Internet business, founded Au Wireless (aka Golden Wireless), a local non-profit Wireless Internet Service in the City of Golden, dedicated to bringing high-speed symmetrical Internet to the community.
THE CHALLENGES
Nestled comfortably at the base of the majestic Rocky Mountains but with quick access to Denver, the City of Golden is one of Colorado's most attractive and productive places to do business. To support and prosper the community, fast and reliable mobile networks and robust wireless internet coverage are indispensable. While Au Wireless has been devoted to providing the city with high performance internet connection, the company ran into an increasingly crowded spectrum problem in 5GHz that made it extremely challenging to deliver effective high-speed internet connection. As noise further increased, the 5GHz spectrum couldn't be relied on for critical business any longer.
THE SOLUTION
Understanding this challenging task, Au Wireless selected IgniteNet's MetroLinq 60GHz product series to rise above the noise and build point-to-point (PtP) /point-to-multipoint (PtMP) hybrid fiber wireless networks to extend the existing fiber infrastructure quickly and cost-effectively. IgniteNet's MetroLinq 60GHz is ideal for both wireless backhaul and last mile connectivity. MetroLinq 60GHz utilizes mmWave v-band to enable the delivery of multi-gigabit connectivity wirelessly allowing quick roll-out of fiber like wireless networks. The MetroLinq 60GHz combines the benefits of being license-free in most markets globally and having 14GHz of noise-free spectrum to use in the US, offering unprecedented performance. MetroLinq 60GHz is also great for dense urban environments, like downtown Golden, due to very narrow antennas and signal absorption by oxygen, which allows co-locating many units on the same tower without creating self-interference. On top of that, all devices come with an integrated 5GHz radio which may be used as failover if the 60GHz connection is temporarily impeded due to adverse weather conditions.
CONCLUSION
Providing high performance internet to the residents and business in the City of Golden has always been the primary objective of Au Wireless, with IgniteNet's MetroLinq 60GHz, Au Wireless could keep the commitment by expanding their "on network" building footprint with fast, reliable and secure multi-gigabit Wi-Fi connectivity.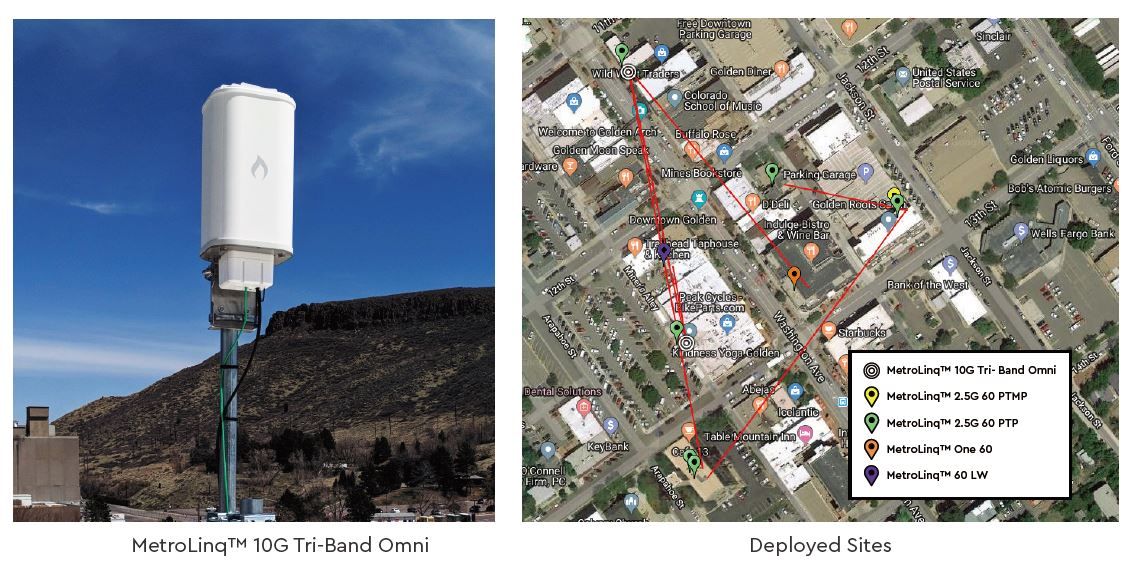 Get Case Study