What's new?
As we've grown and developed new product models and families, we came to realize that the firmware upgrade process needed some tuning as it requires you to create a different upgrade task for each product model in the IgniteNet Family.
This issue has been addressed and new product groupings on the firmware upgrade page will make the firmware upgrade process much more simple: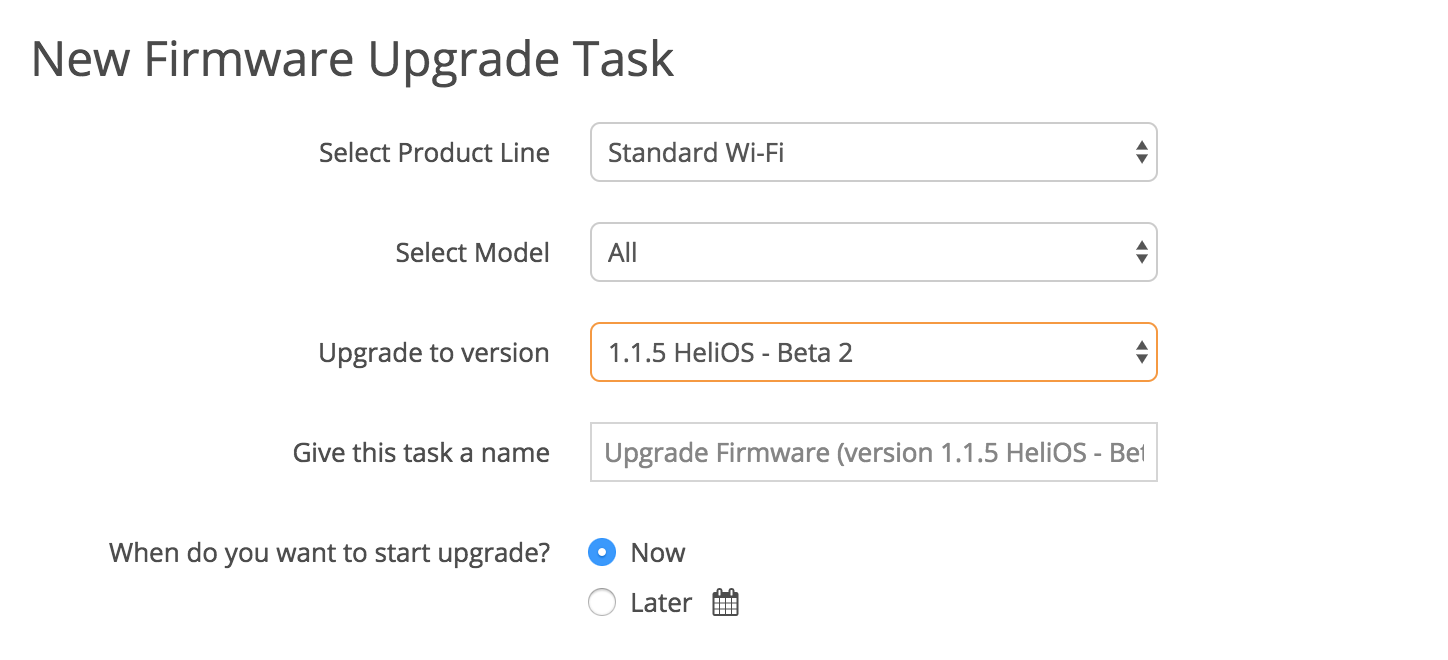 First you choose the main product line - the Standard Wi-Fi product line includes all standard 2.4/5 GHz-based products, such as the SkyFire, SunSpot, Spark, Spark Wave 2, and the Gateway AC1200. (You no longer need to create an upgrade task for each of these models!)
Similarly, the FusionSwitch product line will contain firmwares for all current and future FusionSwitch models (the 24-port PoE switch, the new 8-port PoE switch, and the 24-port Fiber/SFP switch).
Lastly, the MetroLinq product line will include firmwares for all 60 Ghz-based product models.
After you choose the product line, you'll choose the version to which you want to upgrade. Note that beta firmware will only show up if you have beta features (aka the "badge of courage") enabled for your cloud.
After you're done, firmware upgrade tasks will be created for all products in the product line.
In the future we'll give you the option to upgrade all devices to latest firmware with the click of a single button.
Note: You can of course still upgrade a single unit or single product model if you wish.
What's next?
We're working on adding Cloud support for some new products, including the Spark Wave 2 and the MetroLinq 2.5 product variants.
We're almost done with the complete Cloud dashboard redesign.
We're working on some exciting new integrations to add to our add-on family!