What's new?
We've made a lot of changes to the cloud lately, so let's go through them one by one.
Dashboard redesigns
Users who have beta features enabled on their cloud might notice that their dashboards look completely different after today's deployment! The site and cloud-level dashboards have been completely reworked and redesigned.
(Note: cloud owners and admins can enable beta features for their cloud from the cloud properties page).
Here are the high level differences between the old and new dashboards: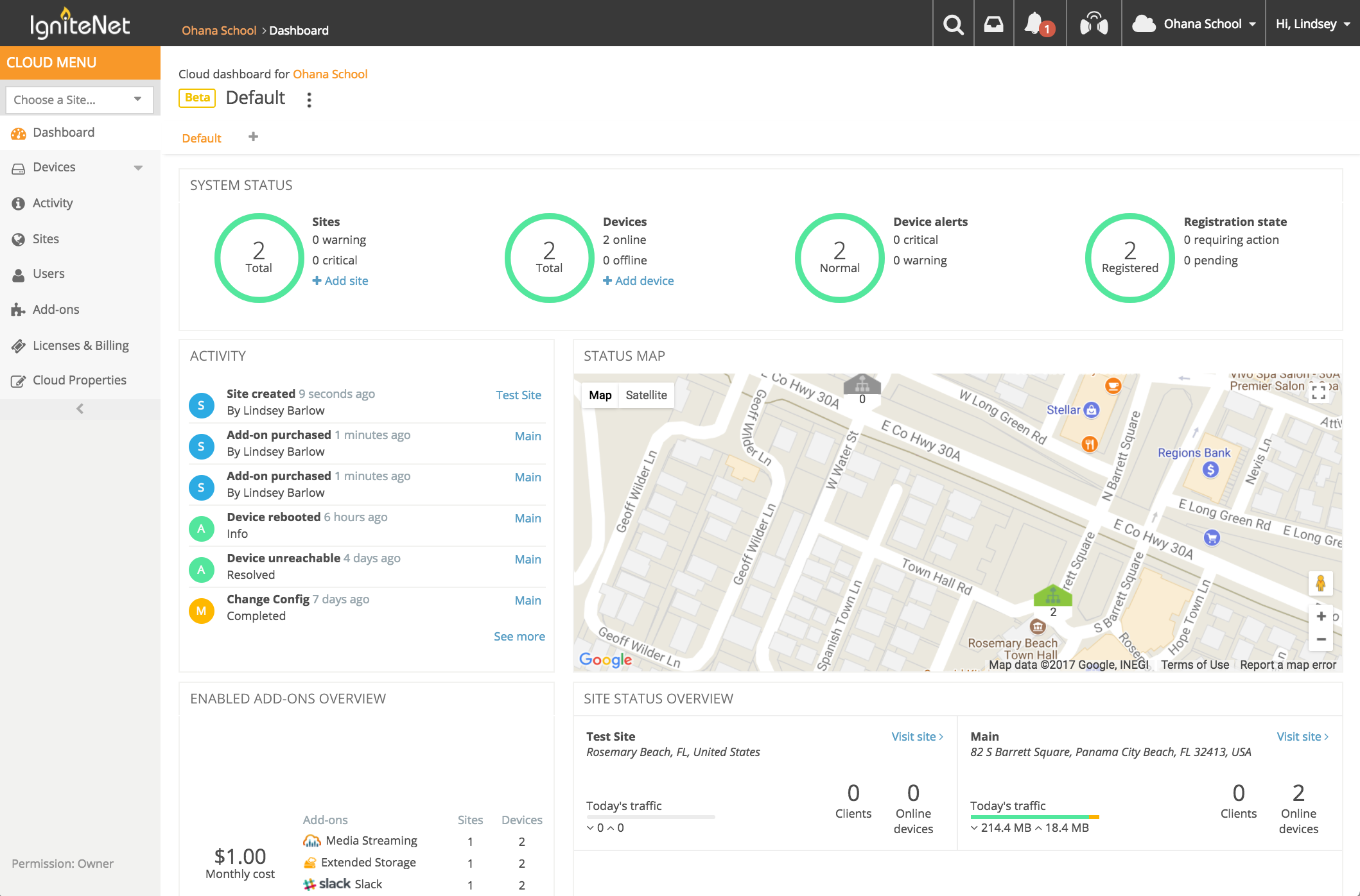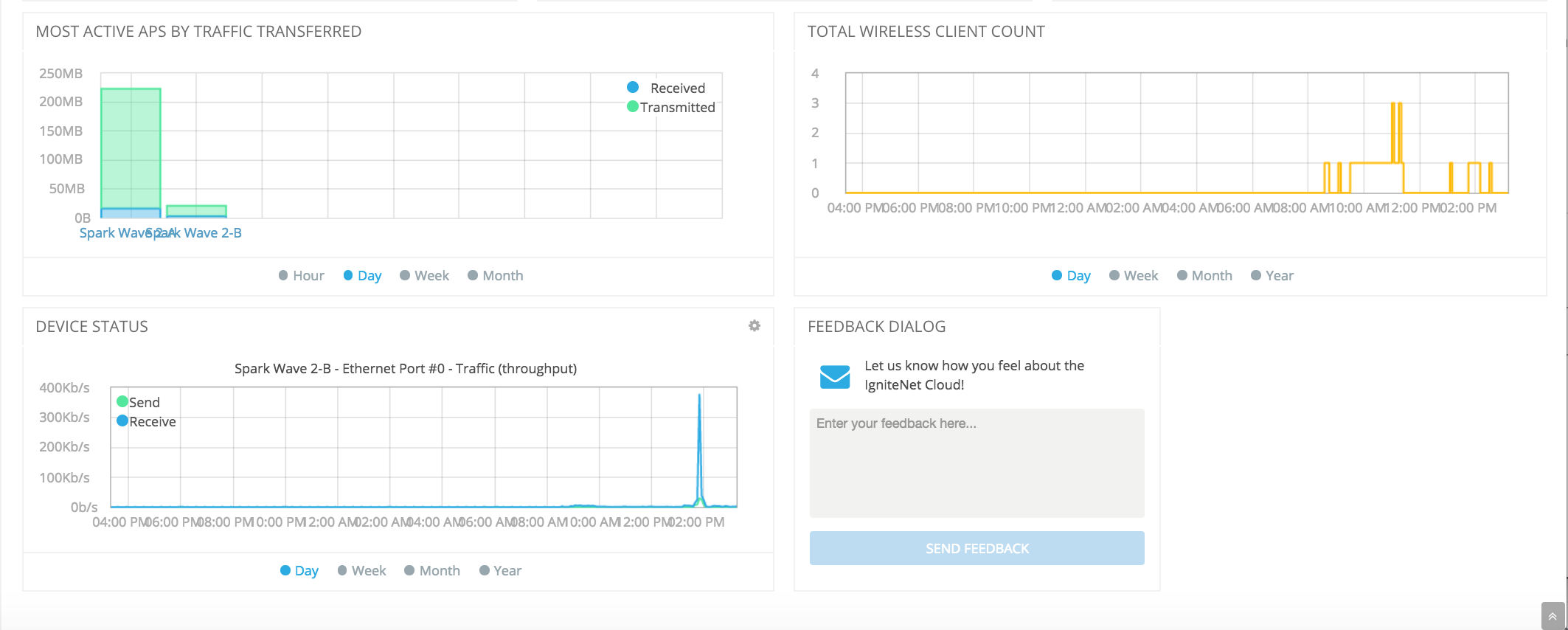 Multiple dashboards: There is one read-only default dashboard at both the cloud and site level, but you can add up to 10 additional custom dashboards if you like.

New Widget Choices: We've added some new widgets under both the cloud and site-level widget menus. If you'd like to suggest an additional widget, please email us at info@ignitenet.com (or use the new feedback widget to drop us a note!)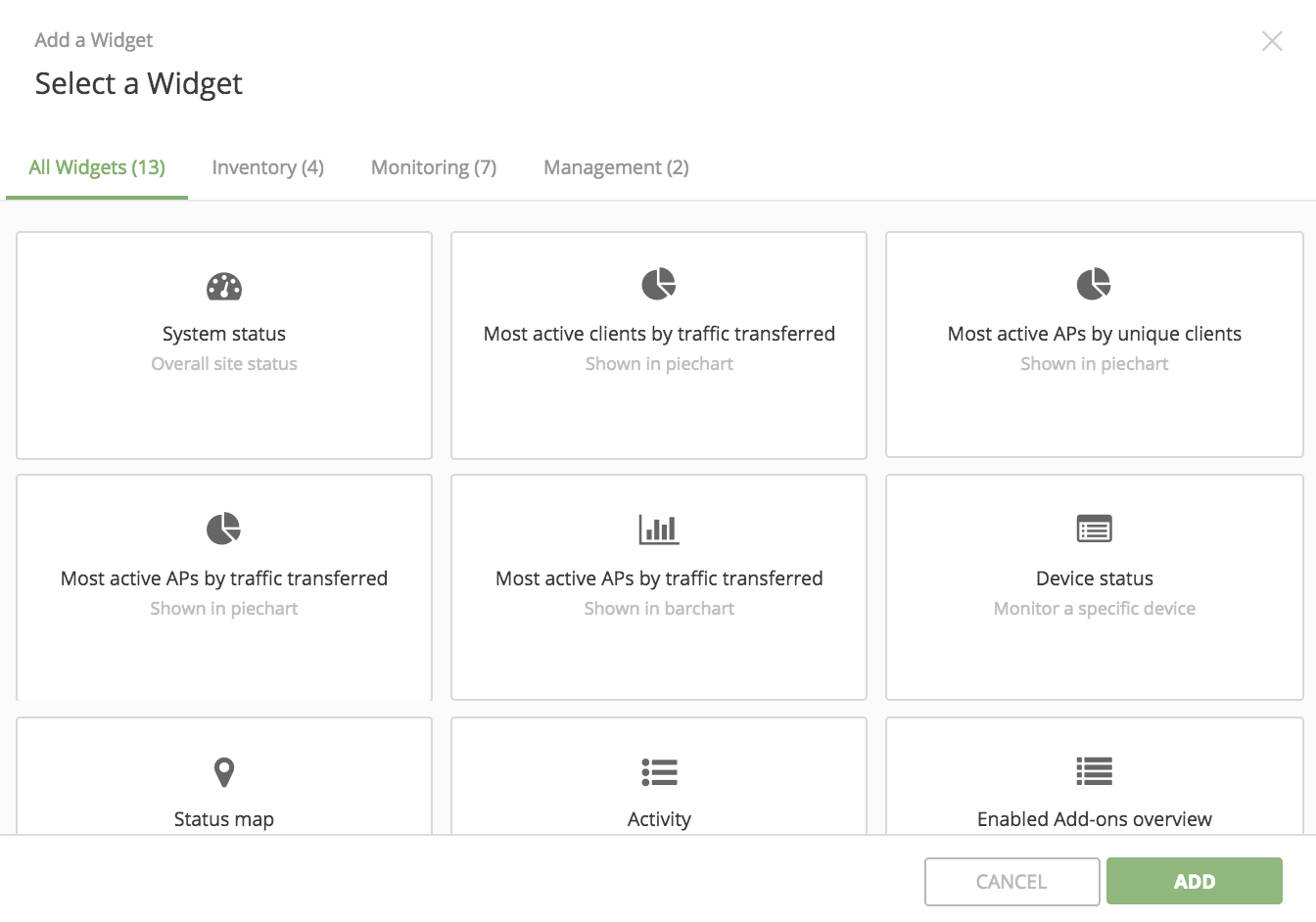 Widget Customizations: On your custom dashboards, you can drag and drop widgets, as well as customize the parameters of the widget as you see fit. Here's an example of a widget where we want to keep an eye on the traffic going over the first ethernet port of a Spark: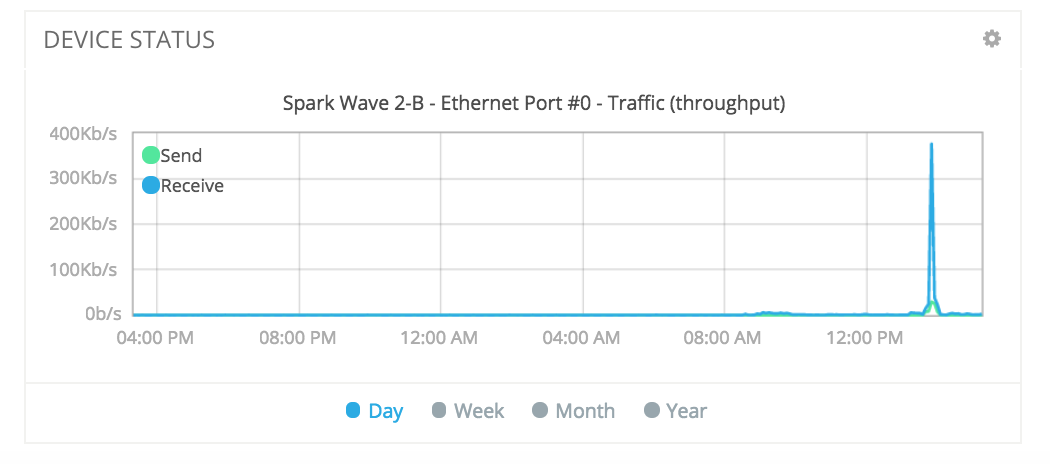 Add-on additions and updates
Family Zone: We've used your feedback to make the Family Zone add-on activation process even easier than it was before.
Instead of having to choose which SSIDs are filtered by the Family Zone service at the time the add-on is activated, all SSIDs will be filtered by default. The Family Zone end user (your customer) can then disable filtering on the grownups' SSID from the Family Zone portal if they wish to.
Family Zone is currently supported on our GW-AC1200 product and will be supported on upcoming Spark Wave 2 AC1200 and SunSpot Wave 2 AC2600 products.
Secure Watch: Secure Watch is one of our latest add-ons which allows you, the MSP or ISP, to provision indoor and outdoor wired and wireless cameras for your customers.
After the add-on activation process, your customer (the SWC end-user) will be prompted to install the SWC mobile app via email. This will allow them to setup notifications, view camera events, and stream live feeds.
You can also monitor the online/offline status of your customer's cameras from the IgniteNet Cloud in order to take preemptive action upon receiving an offline alert.
We offer one plan currently, which is charged to you from your IgniteNet cloud. It's $8.00/month for a shared bucket of 100GB cloud storage and includes 1 camera license. Each additional camera, up to 7, can be added for $2.00/month. You can charge your end user whatever non-wholesale rate you feel is competitive for your market.
VPC (Virtual Private Cloud) changes
We're revamping our Virtual Private Cloud offering in order to make it both easier to setup and customize and more cost effective.
New pricing: Because we've been able to automate most of the VPC setup steps, we're able to offer this branded cloud plan to you at a much lower price of $500/year. New pricing will be reflected next week.

Customizations: You can now upload a background image for the login page, and in an upcoming release, will be able to choose your cloud's colors and styles from a set of predefined themes. No more CSS customizations for you to maintain!
Other notable changes
SOCIFI Integration: You can now enable the Socifi Add-on for easy integration with your SOCIFI Wi-Fi Monetization account.

Spark Wave 2 support: We recently finished adding initial support for the newest member of the wave 2 product family lineup, the Spark Wave 2.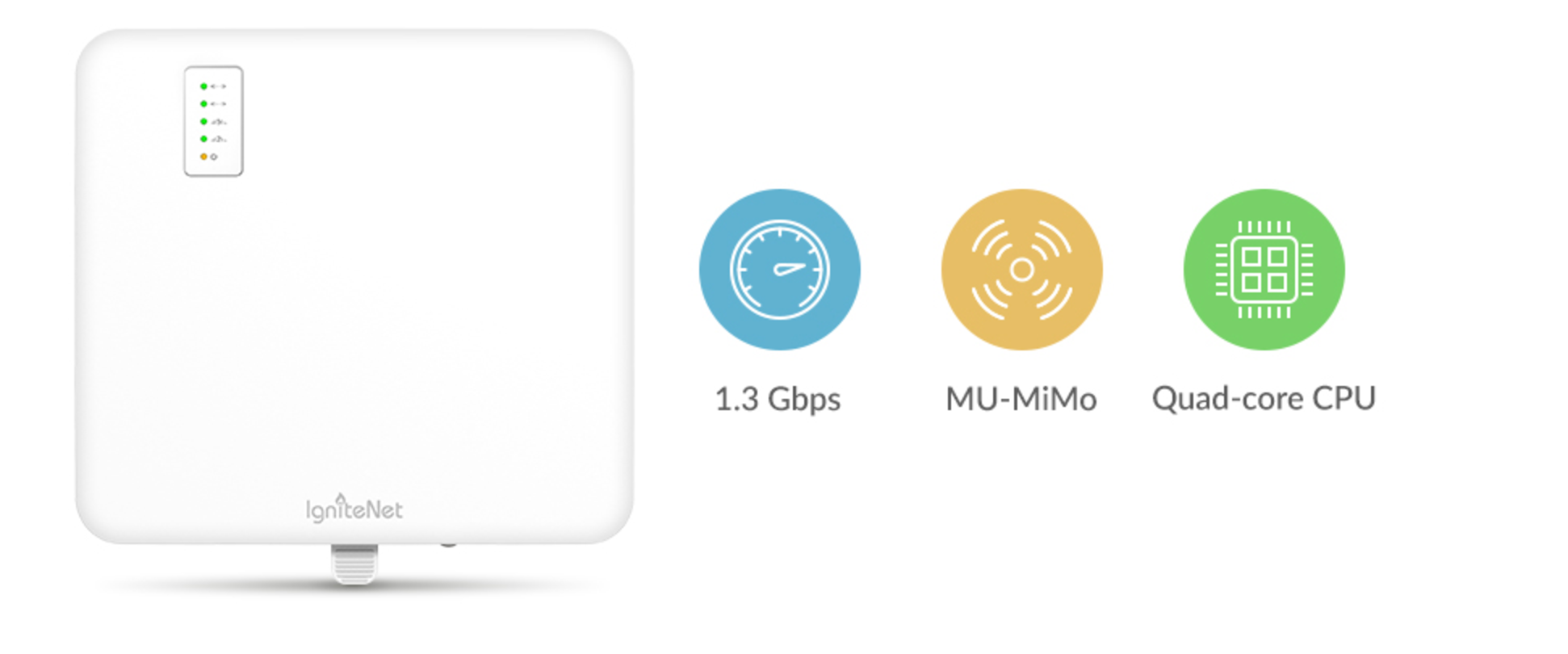 What's next
We're in final testing for the next add-on integration with Blackbx.io. This add-on will require 1.1.5 SR3 firmware, which should be released in the next couple of weeks.

Switch configuration support is currently in progress.