What's new?
Here's what's new this week on the IgniteNet Cloud.
Stronger password policies for user logins
Starting this week, we're going to enforce stronger password policies for user logins. This decision was made to better protect our end users' devices from bots and hackers.
Some customers connect their devices directly into the public internet and don't change any of the default login passwords, firewall, or service-related settings.
This means that SSH and telnet are accessible from the WAN, making their device very vulnerable to being hacked - especially when the default password is unchanged.
New site-level defaults: Deny access to SSH/Telnet from the WAN by default
For the same reasons mentioned in the previous point, we're also disabling access to telnet and SSH from the WAN for new sites only by default.
You can of course re-enable these services by navigating to Configuration->Services and re-checking the appropriate "Allow from WAN" checkboxes.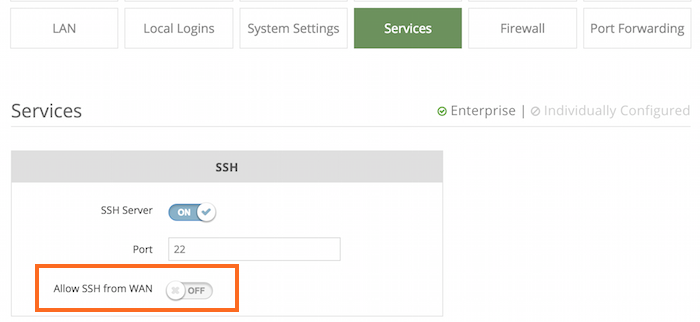 The "Badge of courage" button has been added to your "Manage clouds" page. Enable this to gain early access to 1.1.2 firmware!
Blog Subscriptions
Woohoo, all registered cloud users are now subscribed to receive email notifications when a new blog entry is made!
If you wish to unsubscribe from this list, you can do so easily by clicking "update subscription preferences" link at the bottom of your notification email.
What's next?
We're in the last stages of implementing MetroLinq support on the cloud.
In parallel, we're also working on VPC (Virtual Private Cloud) support.
The v1.1.2 firmware release is still in testing, but should be released at the beginning of April.